Kareri Lake Trek - Himachal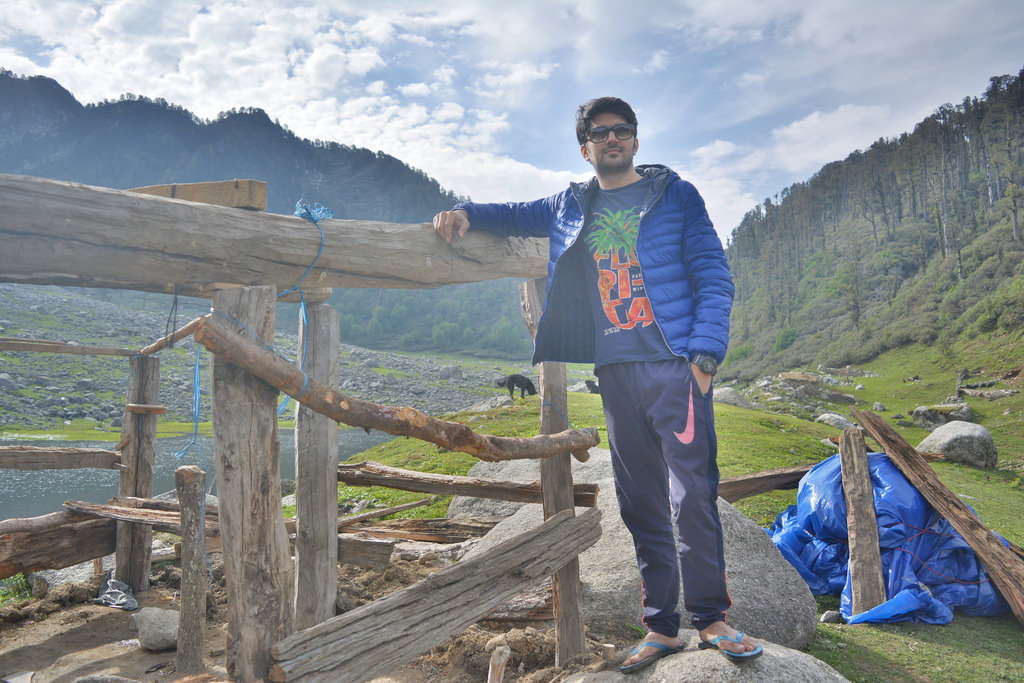 Howdy guys,
Lately I have been planning to travel at some places and none of those plan happened. But the last weekend I did something that I hadn't planned.
As I live in Pathankot which is connected to Himachal and Jammu and Kashmir, so I've easy access to the hills. So last weekend as we had 3 off days we planned for Kareri Lake trek which was suggested by a friend(Thank you). Kareri is located in district Kangra of Himachal Pradesh. We started late in the evening and were aware that we won't be able to start our trek in the evening as it takes about 5-7hrs to get to the top. So that night we stayed at some hotel in Shahpur. The following morning we started for Kareri village and took the route to Salli Village. It was an hour if drive from Shahpur to Salli from there Kareri is about 9km.
After reaching there we saw only two shops and asked them about car parking. They ensured us to park our car there only as it is safe there. We asked them about guide and one of the shopkeeper agreed to go along us as our guide. We started our trek at 10:30am. Enjoying each and every moment of the trek we stopped at many points admiring the beauty of the Place.
There are 4 shops to eat in this whole place. One at 1km from start, one at mid way and 2 at the top. Better keep that in mind if you're planning on going there.
Shop in the mid way.
We reached the top at 5pm after taking many photos, videos and having Maggie's and omelets. Don't forget to take photos on the way as the journey is always mightier than the destination. On the top you'll find a lake surrounded by mountains and you'll see why it is worth 13km trek.
Kareri Lake
So as we reached there our guide suggested setting our tent first. When we were about to set our then were stopped by a storm. So we setup our tent near then temple(storm lasted for 2-3hours). We enjoyed there for some time had our meal followed by a lot of conversations, met some people from around the globe and finally went to sleep in our tent.
We setup our tent in this temple area.
The next morning it was a beautiful bright sunny day and again we took some photos and after our breakfast started our journey back. We started at 11am and it took us 5hours to get to the bottom. The trek is so beautiful that you'll have the desire to visit here again.
This shop was destroyed by storm on the day before our visit.
Headed back
So after reaching down we took our car and headed home with many beautiful memories of this lovely location.
Expenses:
Car fuel ⛽ Rs.500max (diesel)
Guide Rs.600/day (we paid for 2days)
Tent and all🎪 Rs.2400 for 5 persons
And some food expenses.