Journey To Leh Ladakh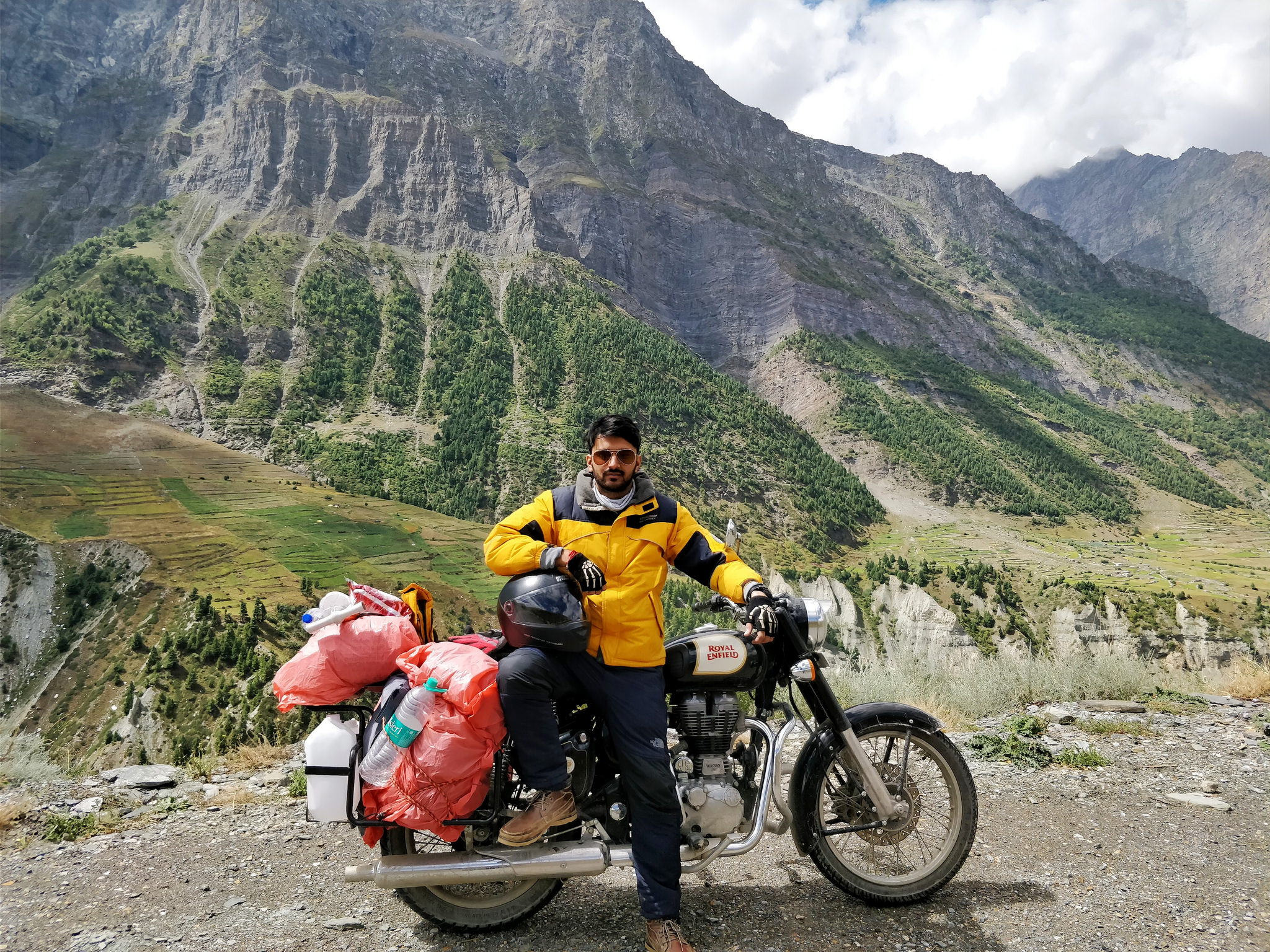 Howdy guys,
Last month, I took the trip which always got cancelled in the planning stage - Road trip to Leh!
Our trip to Leh became a reality although we did lose some guys in the planning stage. Before taking this trip i didnt new that this will leave a big impact on my life.
Traveling to Leh isn't always pretty as it isn't always comfortable. Sometimes I was hurt, sometimes I was excited. But the most important things are the memories and the lessons I took Home. Leh will definitely put a huge impact on your life.
So coming back to the purpose for we are here. This is how it all started.
I started 950KM away from Leh i.e. my Hometown Pathankot and stopped at manali for the night.
The next day we started for Sarchu from Manali(230km) but the weather wasn't on our side and we had to wait there for the rain to stop. After few hours of waiting the rain stopped and we started for our journey. We had just completed 30km when one of our bike got punctured. For getting that puncture repaired we either had to go back 30km or ahead and after enquiring from people coming from other end we came to know that we won't be able to find any shop ahead for 40-50km. So, we asked truck drivers coming from other end for help and one nice fellow helped us to take our bike back to manali safely. As it was already very late so we stayed again at Manali.
The next morning we started for Sarchu early at 5am. We took our stops at Sissu, keyloog, jispa and Baralacha Pass 4890m and finally reached Sarchu in the evening at aroud 4pm. You will be thinking why it took us so long to cover 230km because the breathtaking views made us stop again and again plus you can't go fast and furious on these roads. And as it had rained the previous day we face a 10km strech of slushy road 50km ahead of manali.
Lunch at Keylong
Imp: If you're going on your bikes or jeep then don't forget to refuel at Tandi as you won't find another Fuel station till Leh. Do carry fuel cans along.
Sarchu: In sarchu we stayed in the camp. You'll find a lot of camps over here as most of the people stay here for the night and so did we. But after spending few hours(2-3hrs) we became the victim of Altitude Sickness. Yes I didn't took my Diamox course as I was thinking it won't have its effect on me 🤢. After pucking for few times I took my diamox and slept.
Oxygen level is pretty much low here. If you face any problem then there is a military Hospital which is open to all
Sarchu to Leh: The next morning feeling sick we started for Leh which was around 250km and trust me the road ahead is AMAZING. I was shocked to find such road at this height, hats off to Border Road Organisation for their brilliant work. After corssing the 5079m high pass Lachungla Pass we reached Moore Plains and you got to trust me on this, this place will literally take your breath away.
Our next stop was Taglangla Pass 5328m which was very very cold that I didn't even thought of taking my helmet off.
We reached Leh at around 7:30pm, had our dinner and went to our rooms and called it a day.
This is how I managed to reach Leh :D
Things you definitely need: Spare tube for your tyre.
Tools to change tube.
Inflator pump.
Diamox, other tablets and bandages 💊
Fuel cans to carry fuel ⛽
Clutch and accelator wire.
Sunscreen and Sunglasses 🕶 extra dark one (Rayban won't be that useful).